Neem & Sage Whipped Hair Butter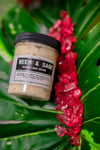 What is this gem?
Sage has one of the most clarifying and strengthening properties of all everyday common herbs. This recipe has been shown to prove Neem & Sage promotes hair growth, prevent dandruff and flaking, and strengthens hair follicles while Castor oil, Shea butter and Jojoba moisturizes and revitalizes your crown!
Why this gem?
For luster, hold, growth, and strength Bijoux's Whipped Hair Butter is the best option for loose naturals, braids, and locs!
For 1B to 2C hair types this product can double as a lush hair mask!
HOW TO USE
Apply nickel size amount to damp to dry hair and work through with fingers, comb, or brush. Style as desired.
Featured Ingredients: Neem & Sage
Ingredients: Sage (Salvia officinalis), Neem (Azadirachta indica), jojoba oil (Simmondsia chinensis), shea butter (Butryospermum parkii), castor oil (Ricinus communis ), vegetable glycerin, vitamin E
---
Related products